Sustainable production of rubber solutions with high demands on quality and know-how
CSR
In all respects we recognize the principles of the United Nations Global Compact regarding human rights, labour standards, environment and anti-corruption. We have incorporated the principles in all our activities and guidelines.
It is a matter of course for AVK GUMMI, AVK Sealing Technology, AVK Ravestein and AVK Elastomer Technology to be at the forefront of development and to ensure that all actions are in compliance with both national and international legislation.
Read here about AVK Social Responsibility. 
Sustainability
Sustainability is one of our strategic values. Back in 1991, AVK GUMMI was not only among the first companies in Denmark, but also among the very first elastomer companies in the world to achieve ISO 14001 certification on the environmental management of our business.
We constantly strive to improve processes and optimise our elastomer compounds, enabling extended lifetime and reduced energy consumption. With 4 mixing lines and more than 150 moulding machines in operation, AVK GUMMI has a high consumption of electricity. Therefore, we aim to significantly replace purchased energy by internal renewals. In 2021, we took our first section of solar panels into use, and more have been installed since. 
For more information, please see our sustainability report here:
GHG Protocol
In 2022, we began to map our business in accordance with the Green House Gas Protocol, including Scope 1, 2 and 3. This includes all in-house as well as upstream and downstream activities. With this additional tool we are now able to set more accurate targets for further environmental improvements.
Our goal is to continually reduce our CO2 emissions by substituting our raw materials to greener alternatives and by selecting sub-suppliers that actively focus on reducing their carbon footprint. We have initiated several measures in order to optimise our production processes and thereby reduce our consumption of electricity.  
In line with our sustainability strategy, we offer advice and deliver complete solutions based on high-quality rubber components for demanding applications. The drinking water sector, the food industry, the energy sector, the healthcare and technical industries are our primary segments.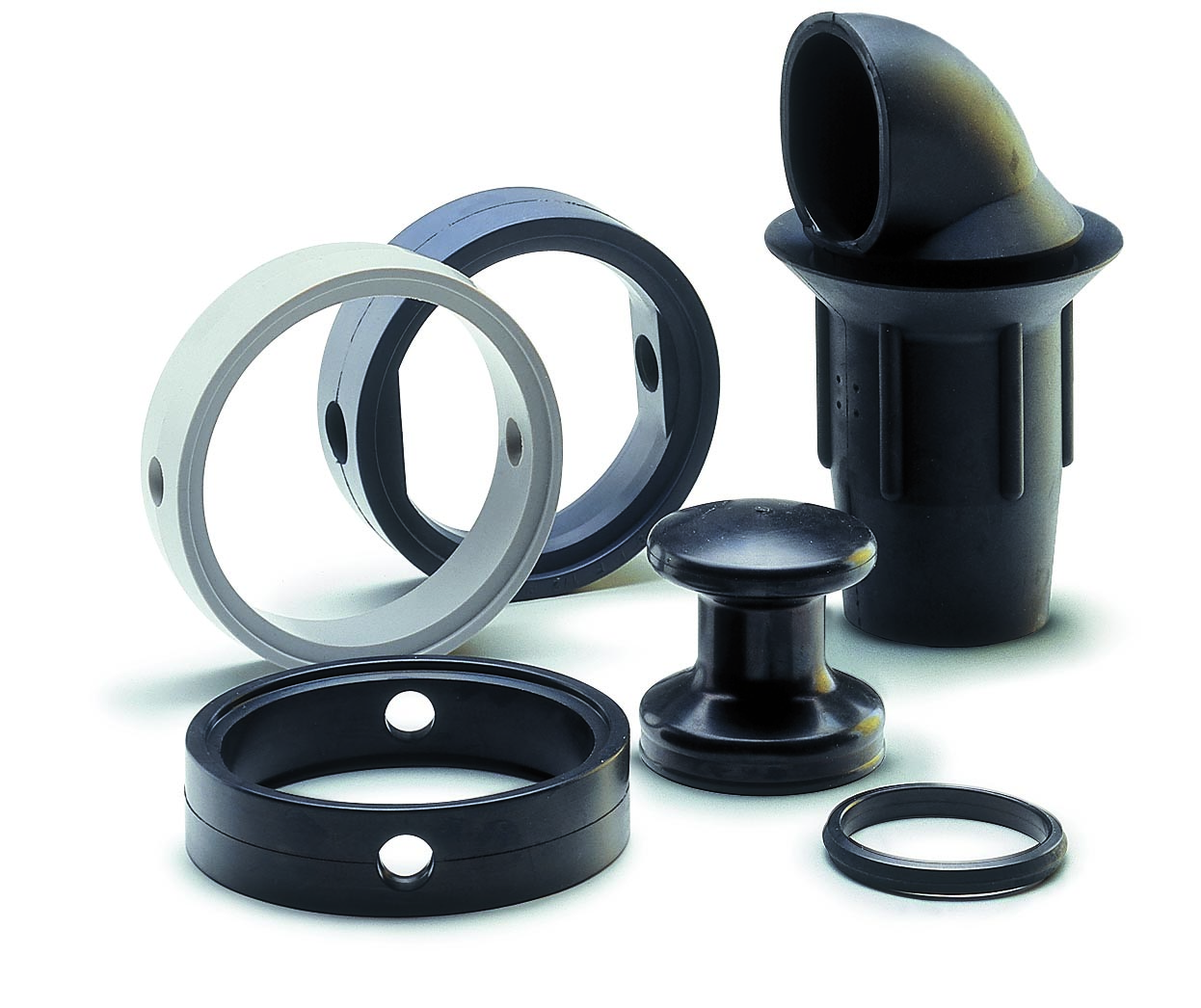 We produce injection moulded and compression moulded rubber components. Furthermore, we develop customised rubber compounds and rubber items that match your specific needs.
Finally, the product programme comprises many different composite components where rubber is vulcanised with other materials such as stainless steel, metal, PTFE and fabric.
How can we help you?
AVK GUMMI offers you competent advice with focus on:
Complete solutions
Reduction of your production and installation costs
Optimisation of the design and function of your product
When you decide on a cooperation with AVK GUMMI, you will find that we are more than just an ordinary supplier. Through a constructive dialogue, we look at critical issues and help you develop technical rubber solutions that will optimise not only the rubber component but also your product. This goes for all aspects involving design, function and the choice of materials.
We have production facilities in Denmark, China and the Netherlands as well as sales in the USA
AVK GUMMI A/S, Laasby, Denmark
Subsidiaries of AVK GUMMI A/S
Important landmarks
Niels Aage Kjær founds AVK GUMMI
Knud Flemming Madsen becomes joint owner and Managing Director of AVK GUMMI
ISO 9001 and ISO 14001 certifications are obtained
The world's most advanced mixing plant is taken into use
Establishment of Chinese subsidiary, AVK Sealing Technology
ISO 9001, ISO 14001 and OHSAS 18001 certifications are obtained at AVK Sealing Technology
Expansion of the mixing plant with a new mixer line for bright-coloured compounds
Acquisition in the Netherlands - AVK Ravestein BV
Establishment of AVK Elastomer Technology (USA)
Privacy policy
We respect your privacy. Whether you are a returning customer, or just browsing our website, we want to make you comfortable with our privacy policy and the security measures that we take to protect your personal data.
For that reason, we have implemented a high standard of data protection. If you provide us with personal data or if we collect personal data about you from other sources, we will treat it in accordance with this policy. We encourage you to read this privacy policy in full.
Training and education
Book a rubber seminar
If you would like to learn more about rubber technology, including rubber application, properties, suitability, etc., you are welcome to book a seminar with AVK GUMMI. The training session may for instance be within rubber for food or drinking water – or rubber technology in general.
Finally, as always, we are happy to help you with advice concerning product contact.
If you have a specific topic that you wish to learn more about, please let us know. If you already have test data, we will base our dialogue on this data - otherwise, our R&D team can generate the necessary data.
Please contact us at avk@avkgummi.dk

Factory tour
Entering into a cooperation with a new customer, it is important for us to how a modern factory with robots, rubber mixers and injection moulding machines works.
Therefore, under normal circumstances, we are always happy to give you a guided factory tour – whether you are already familiar with our company or we have just met.
Contact our sales team
Regardless of the size of the task or the level of complexity, we look forward to cooperating with you.